Pauper's funeral for 18-year-old among 500 in Wales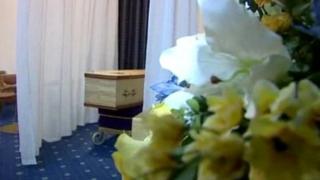 More than 500 people have had pauper's funerals in Wales in the last five years, costing more than £500,000.
An 18-year-old was among those who had a funeral funded by a local authority, BBC Wales has learned.
The funerals are carried out when a person died without relatives or the family is unable to pay.
A simple service is followed by cremation or burial in an unmarked grave which could potentially be reused three or four times.
Officially known as public health funerals, the cost is met by local councils or the NHS, with such funerals set to put an "increasing strain" on the public purse, according to councils.
BBC Wales asked every council in Wales how many public health funerals they arranged between 2009-2010 and 2013-2014 in a Freedom of Information request, and how much they cost.
The figures reveal local authorities spent £518,133 on a total of 504 pauper's funerals.
The cheapest public health funeral in Merthyr Tydfil cost just under £110, while, at the other end of the scale, Wrexham paid more than £3,000 for the most expensive one.
The youngest person to be given a funeral paid out of the public purse was an 18-year-old in Carmarthenshire. The oldest, aged 96, was in Swansea.
Cardiff arranged most public health funerals over five years, spending more than £100,000 on 100 burials.
Ceredigion had the least, with a single funeral in that time, costing £1,900.
The Welsh Local Government Association pointed to factors which could fuel demand for public health funerals, such as the economic downturn and people living on their own without the support of extended families.
"There is no doubt that we are experiencing examples of significant poverty emerging in our communities associated with austerity and some aspects of welfare reform," said a spokesman.
"It is difficult in these circumstances for those with financial difficulties to afford the huge costs funeral planning which can average at around £4,000 and in some cases is more expensive than this.
"As such the priority for many people is the cost of everyday living. This is an unpleasant reality, but one which local authorities have to try to deal with when it comes to paying for a public health funeral."
The spokesperson added: "Local councils are taking unprecedented cuts to their budgets and it is inevitable that there will be an increased strain on the public purse, if there is an increase in the number of funerals which are paid for by councils."