Welsh house prices nearing pre-crisis peak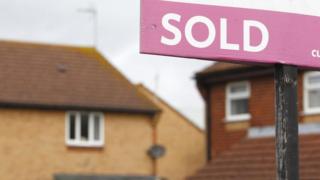 Average house prices in Wales have climbed to just below their pre-financial crisis peak.
The cost of buying a property rose by 7.4% to £171,000 in the year to the end of July, according to the Office for National Statistics (ONS).
That is just 0.8% below their 2008 peak.
But Wales is behind Scotland and England, where property prices are at record levels.
Northern Ireland remains the area with the furthest climb to recover to previous peak levels.
Prices there are currently 46.7% below their peak and the average property costs £139,000, according to the ONS.
In Scotland, average house prices have risen to 0.7% above their pre-financial crisis peak of June 2008 and cost £198,000, while those in England are now 13% higher and cost £284,000.