Painting marks Abercarn Colliery disaster anniversary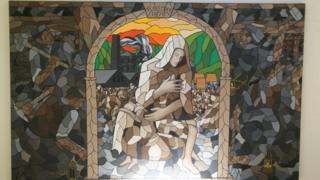 A specially commissioned painting to mark the 136th anniversary of one of the worst mining disasters in south east Wales has been unveiled.
The Prince of Wales pit explosion at the Abercarn Colliery on 11 September 1878 killed at least 268 men and boys.
The painting by a local artist now hangs at Newbridge Institute near Caerphilly which was built by miners.
Trustee James Dean Bradfield from the band Manic Street Preachers said he was honoured to help with the unveiling.
The recently refurbished institute was first opened in 1908 with £6,600 of miners' contributions.
It is thought that not all the bodies were recovered in the mining disaster where 27 boys under the aged of 14 perished in the flames or the subsequent flooding of the mine.
Local historian Ray Lawrence described it as "a terrible disaster that the county of Monmouthshire would never see it's like again".
He explained that colliery cashier David Bowen had said he was not sure how many men were down the pit, but that 372 lamps were given out that morning.
According to local church memorial records, the disaster killed 55 boys under the age of 18. It also created 181 widows and affected 360 children.
It took about two months and a million gallons of water from the local canal before workers were satisfied the fire had been extinguished.
The pit closed in the 1930s and the site is now an industrial estate.
Artist Roy Guy said: "I've tried to get across the suffering not just of the miners who died, but all the women and children they left behind."
James Dean Bradfield said: "The painting really brings home the DNA of the surrounding community, it's infused with the building blocks of what these places were built on."
"Sometimes we need these echoes of the past to actually remind us of what these places were built on, and I think this painting does it amazingly," he added.