Exercise Dragon: Oil pollution response test off Conwy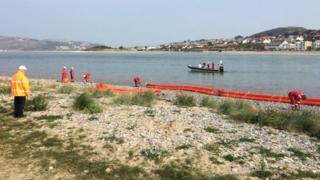 A simulation of an oil disaster is underway off the north Wales coast to test emergency responses.
Exercise Dragon off the Conwy's coastline involves land, air and sea teams to see how they would tackle pollution in the event of a spill.
No actual oil will be released but counter pollution equipment will be tested in Conwy harbour.
"It's right that we continue to test our response capability," said exercise director Iain Campbell.
The UK last experienced a major disaster in 1996 when the Sea Empress tanker hit rocks off Milford Haven, Pembrokeshire, and spilled 72,000 tonnes of crude oil over 120 miles of coastline.
It affected marine life, including thousands of sea birds.
It is also two years since cargo ship MV Carrier ran aground near Colwyn Bay in the county, and salvage teams had to remove its on-board fuel supply to protect bird life and the coast.
Dragon's two-day exercise will simulate how the UK would react to another major spill and will be led by the Maritime and Coastguard Agency (MCA) and Department of Energy and Climate Change (DECC).
As well as equipment like booms and oil skimmers, the exercise will also see how different organisations from police, Natural Resources Wales to oil and gas organisations work together.
Mr Campbell said the UK's offshore safety regime was one of the most robust in the world, but added: "This exercise will give the UK an opportunity to assess its response capability to a shoreline response because the exercise scenario involves the weather and tides forcing the oil to land onshore."