Exploring the identity issue ahead of Scottish referendum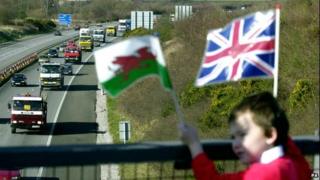 With the vote for Scottish independence just days away, whatever the result, it is clear the majority of Scots have a strong national identity.
But what is the picture in Wales? How do people from Wales describe themselves - Welsh or British?
BBC Wales producer Ioan Wyn Evans has explored the issues in a documentary.
In the programme, he spoke to Carol Speed, mother of the late Gary Speed who was Wales' football manager, broadcaster Huw Edwards and rugby player Scott Quinnell who all revealed very different perspectives on identity.
Carol Speed: The location
Living in north Wales near the English border, Carol considers herself English along with the majority of her family including Gary's sister.
But despite the whole family identifying themselves as English, her son Gary had a completely different perspective.
"He was all Wales - considering he was born just slightly over the border, and we're all English," she said.
Despite being brought up in the same house with the same experiences, she said Gary was "the only Welsh person in the family, but he was a staunch Welshman."
And she remembers how Gary's passion about his identity manifested itself in the early days of his job as the Wales football manager by insisting the players could sing the Welsh national anthem.
"It's the first thing he did when he got the job," she said. "I think that was important to him. It's the passion you see, isn't it?"
Scott Quinnell: The language
The former Wales rugby international is originally from Llanelli in Carmarthenshire - a heartland of Welsh speakers.
Yet despite being able to converse in Welsh, a lack of confidence means he is reluctant to use the language.
But does not using the Welsh language alter his perspective of his identity as a Welshman?
"If you cut me, I'd be Welsh right through. And I think that's the important thing - it's how you feel," he said.
"When I go round the world and they ask me where I'm from, I'm from Wales."
Huw Edwards: The heritage
The BBC newsreader is originally from Llangennech, near Llanelli, but now living in London.
Despite his move to the English capital, he retains his sense of identity as a proud Welshman but has concerns of his children not sharing the experience of heritage he had.
"The idea of living somewhere that's different to home is a challenge," he said.
"But the effect is healthy and a positive one - in the sense that you are even more proud of your heritage if you're in an unfamiliar place."
Talking about his children's upbringing, Huw's says his father, the late Professor Hywel Teifi Edwards, had a huge influence on his family.
"It would be hard for my children not to feel Welsh - Tadcu [Grandfather in Welsh] told them for years about their heritage, and they loved him," he said.
"The children have been learning Welsh at chapel. My children can't speak Welsh fluently, and that is something that worries me.
"But I try to give them freedom to discover their heritage, and to be proud of it - and there is no doubt that they are London Welsh."
Pleidiol Wyf I'm Gwlad will be broadcast 9 September at 21:30 on S4C with English language subtitles available.