Poverty major factor in Welsh child deaths, says report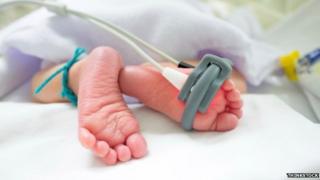 Poverty is a significant factor in the cause of death of children in Wales, a report has said.
The death rate among children living in the most deprived areas is 70% higher than those in the wealthiest parts, Public Health Wales has said.
The Child Death Review Programme found children from poorer areas were more likely to have health problems.
However, there has been an overall decline in child death rates over the last 15 years.
The Public Health Wales study examined patterns of child deaths during 2012.
Of the 218 child deaths in 2012, 64% occurred during the first year of life.
"Across the world, children are at most risk of dying in the first year of life and a lot of the reasons why children are so vulnerable relate to factors around their birth," said Dr Ciaran Humphreys, consultant in Public Health and Health Intelligence.
"So if children are born very early, if they're premature or if they're born without a high enough birth weight that puts them very vulnerable to health problems in life.
"And those from more deprived backgrounds are more vulnerable to those types of issues."
He went on: "But it's worrying that there is a clear connection between poverty and child death and this is an area that could clearly be tackled."
Dog bites
The report, which is the second of its kind, also found external causes of death, such as accidents, suicide and assault, accounted for more than half of deaths among 12-17 year-olds, and around one in five deaths of children aged between one and 11.
The current death rate is the same as it was 10 years ago, says the report, which was published on Tuesday.
But the UK's child death rate over the last 40 years has declined less rapidly than compared with other wealthy countries.
Alongside the report, a review of dog-related child deaths was also carried out and it found around 114 children a year are admitted to hospital following a dog attack.
"Dogs are popular pets and have a valuable role to play in many families," Dr Humphreys said.
"But we would advise people to never leave a baby or young child unsupervised with a dog, even for a moment, no matter how well you know that dog."