Monmouth Comprehensive School helps cut town bad behaviour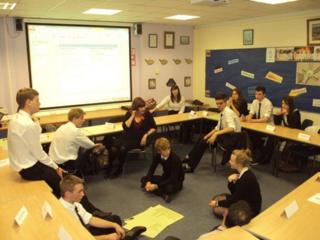 A big fall in anti-social behaviour in one town has been credited to a school project which gets young people to tackle problems with classmates.
The scheme at Monmouth Comprehensive has led to a big fall in expulsions - down from 160 days a year in 2009 to about 13.
The school has banned detentions and instead encourages pupils to talk through their problems.
Gwent's police and crime commissioner says all schools should adopt it.
The scheme called Making A Connection has been developed over the past seven years and encourages pupils to talk about their problems and feelings openly.
When conflict happens, the class is encouraged to deal with it as a group, for pupils to confront their own bad behaviour and discuss its impact with victims.
Students are encouraged to express themselves from when they start school and they have the same form teacher right through until they reach sixth form - including seven hours of teaching a fortnight from them.
Deputy head teacher Andy Williams is behind the system and insists it is not "cosy" - with pupils instead held to account in a "more human" way.
"We have pupils from a large catchment area but their form teacher gets to know them inside out and their parents," he said.
"We're not social workers or police but in Wales we can build a model based on teaching and learning."
Gwent Police and Crime Commissioner Ian Johnston believes the project would benefit other schools too.
"If the restorative approach is adopted throughout Wales and beyond, it could have a significant impact on reducing criminal activity by addressing the root causes of problems before they escalate into something bigger," he said.
Making A Connection in summary
School exclusions have dropped dramatically from more than 160 days lost a year five years ago, to just over 13
Fewer pupils excluded also means fewer problems on the streets in the wider community - referrals to the youth offending service are at an all-time low and recent figures show only one referral from Monmouth Comprehensive
Anti-social behaviour involving youths in Monmouth has dropped by 48% in three years
There is a support centre at the school for those who need extra help
Attendance figures at the school are at its highest ever level
All students at the school have left with a qualification, the vast majority with five good GCSEs or more
Training and development of the approach is now including other schools, councils and organisations in Gwent Police area, with £50,000 funding from the Police and Crime Commissioner (PCC)
Source: Monmouth Comprehensive School
PCC Mr Johnston and Monmouth AM Nick Ramsay will visit the school on Tuesday after it received a quality award from the Restorative Justice Council.
Mr Ramsay added: "Prevention is always better than cure and if we can get to the root of why some pupils act in the way they do then we have a much better chance of solving the problem."