More than 40% of foster children split from siblings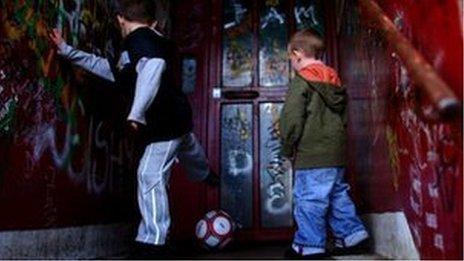 More than 40% of children who are fostered in Wales are separated from siblings, a children's charity says.
Action for Children said the impact of splitting brothers and sisters can be deeply distressing, with children feeling angry and upset by the process.
The charity said there were not enough carers in Wales who could look after sibling groups, and more people needed to come forward to address the problem.
Around 4,400 children were fostered in Wales last year.
Figures obtained by Action for Children following a Freedom of Information request found the problem was at its worst in Bridgend over the last financial year, with up to 54% of sibling groups being split up.
Stacey Burnett, the operational director for fostering with the charity, said children coming into care already experienced a huge sense of loss.
She told BBC Radio Wales: "You are separated from your family, your friends, your community and experiencing that without your siblings as well is sort of a double blow if you like.
"So often, children at home care for one another.
"They are the people who they can rely on to support them within often chaotic surroundings so when they lose that there is a massive sense of abandonment often for a lot of children."
Most children were split up because there was no available placement for sibling group, but there were some cases where it was necessary to separate a child for their own particular needs, she added.
Caroline March, from Ceredigion who has been fostering for 11 years, said she had never gone a year without having children come to her who had been separated from brothers and sisters.
"I have been fortunate enough to have young people living with me who have come from large families so we're not talking being separated from a couple of brothers or sisters, we're talking families of seven, nine children who end up separated," she said.
A Welsh government spokesman said local authorities had a duty to ensure they have a sufficient range of placements and carers to meet the diverse needs of children in their area.
"Foster carers look after and provide a home to some of the most vulnerable children and young people in Wales," the spokesman added.
"We have taken a number of measures to support foster carers, and continue to work with and support local authorities in improving the commissioning of placements."
Related Internet Links
The BBC is not responsible for the content of external sites.