Wales' biggest stop smoking campaign launch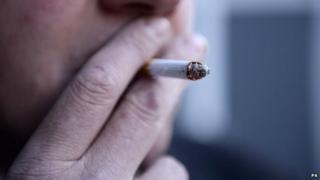 The biggest campaign to date to encourage Wales' 690,000 smokers to quit is being launched in Cardiff.
"Local heroes" from around Wales who have agreed to try and kick the habit during the month of October will take part.
The Welsh government wants to reduce smoking among adults in Wales to 16% by 2020 from the current 21%.
Health officials say half of all long-term smokers will die from a smoking related disease.
Throughout September and October, in partnership with the Welsh Rugby Union, Public Health Wales will be offering support for the 28-day Stoptober challenge which is returning to Wales this year.
The challenge is based on research that says those who stop smoking for 28 days, are five times more likely to quit for good.
The main findings of a survey commissioned to find out more about the smoking habits and attitudes of those who smoke will also be announced at the Millennium Stadium launch on Monday.
A TV advert for the marketing campaign will also be screened.