31 arrests over Wales 2014 Nato summit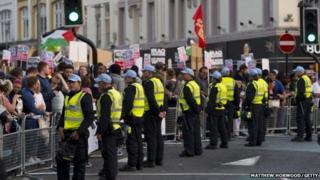 There were a total of 31 arrests related to the Wales Nato summit last week, the officer leading the operation has said.
The arrests were for offences including assaulting police and possession of offensive weapons.
Nine and a half thousand officers from around the UK were brought in for the week.
The commander of the policing operation said he was proud of the part they had played in delivering a safe summit.
Assistant Chief Constable Chris Armitt said: "This was one of the largest security operations ever undertaken in the UK, with several thousand officers and staff from forces from all over the country helping to police the event.
"We would like to thank residents from across south Wales for their co-operation throughout the Nato summit period.
"Their support has been very important and has helped ensure the success of the police operation"
Twelve of the 31 arrests were on Thursday, the day of the two anti-Nato protests in Newport and Cardiff which were supported by far fewer people than the expected thousands.
Officers from outside Wales also made 64 arrests which were not to do with the political gathering, for offences ranging from affray to rape.