Wales has 'done UK and Nato proud', says David Cameron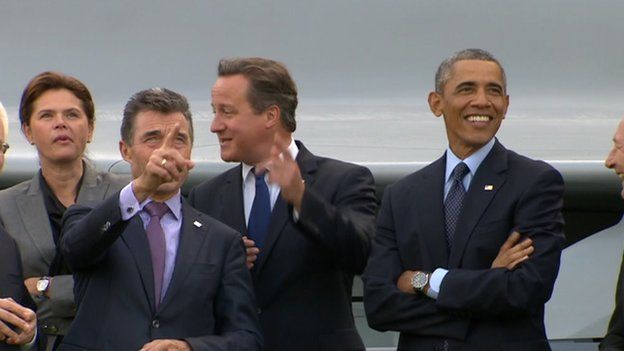 As the Nato Wales Summit nears its end, Prime Minister David Cameron said Wales had "done the UK and Nato proud".
Conference talks concluded on Friday afternoon and world leaders will soon make their way from Newport.
Mr Cameron said the alliance would leave the Celtic Manor "a stronger Nato, better able to keep our people safe."
President Obama said it was a "great honour" to be the first sitting US president to visit Wales.
He has now departed the summit in his Marine One helicopter, heading for a Gloucestershire RAF air base before flying back to the US.
The event brought together more than 60 national leaders and 4,000 delegates amid tight security.
Police said the M4 may be affected during rush hour on Friday, but it would not be closed.
Leaders including President Obama and Prime Minister David Cameron watched from outside the Celtic Manor as the planes passed overhead.
Ukraine, Afghanistan, and the future of the Nato alliance were at the top of the agenda for politicians and diplomats throughout the conference.
Nato defence ministers including US Secretary of State John Kerry and UK Defence Secretary Phillip Hammond met their counterparts from France, Australia, Germany, Canada, Turkey, Italy, Poland and Denmark to discuss enhanced opportunities for co-operation.
Closing the event on Friday afternoon, Nato Secretary General, Mr Fogh Rasmussen, said the summit had enhanced the alliance's partnerships and strengthened the bond between North America and Europe.
He thanked Prime Minister David Cameron for hosting the summit adding: "To the people of Wales, thank you for your warm hospitality 'diolch yn fawr'."
Mr Cameron said the member countries would leave the summit "united in purpose, with a strong Nato better able to keep our people safe."
He thanked those who had worked to make the summit possible adding: "Most of all I would like to thank the people of Wales who have welcomed the world, and I believe, done the UK and Nato proud."
President Obama, who closed the summit, added: "I want to thank the people of Newport and Cardiff and the people of Wales for welcoming me and my delegation so warmly.
"It's a great honour to be the first sitting US president to visit Wales."
Socks, coasters and computers - the gifts given to leaders
World leaders were presented with willow baskets filled with gifts from Wales at the summit.
A note from the Prime Minister said: "I hope you will enjoy each of these gifts and be inspired by them to find out about all that Wales has to offer."
Personalised Nato coasters made from Welsh slate
A commemorative piece from the Royal Mint
Welsh cakes
Cufflinks and bracelets in Welsh gold
Selected poems by Dylan Thomas
Woollen socks
A Raspberry Pi credit-card sized computer, made at Sony's Pencoed site
Earlier on Friday, Deputy Prime Minister Nick Clegg met young people in Newport at a children's summit organised by the University of South Wales, where he took part in a question and answer session.
The Welsh government confirmed it has spent £3m in total on the Nato summit - including money spent on improvements to Cardiff Airport.
Wales has been praised for its hospitality throughout the summit.
Police said the two-day summit had passed without major incident, but tight security would remain in place until delegates had left Wales.
Workers have already started to remove security fences erected in Cardiff city centre and the barriers are expected to be down by the start of next week.
Nearly 10,000 police officers from 43 forces across England and Wales have been on duty as part of an unprecedented security operation for the UK for the summit.
It was announced that Poland will host the next Nato summit.
Wales Nato Summit 2014 in numbers
Related Internet Links
The BBC is not responsible for the content of external sites.