C. diff related deaths rise in Wales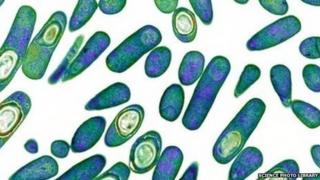 The number of deaths involving C. difficile in Wales has risen for the first time since 2008.
The hospital acquired infection was mentioned on 177 death certificates in 2013, 22 more than in 2012, the Office for National Statistics (ONS) said.
The infection was recorded as the underlying cause of death in 91 cases, an 11% increase on 2012.
Deaths involving the hospital superbug MRSA dropped from 29 in 2012 to 19 in 2013, according to the figures.
The recent rise in C. difficile related deaths follows a period where deaths involving the bacterium had more than halved, from a peak of 461 in 2008.
During a C. diff outbreak at Ysbyty Glan Clwyd hospital in Denbighshire, between January and May last year, there were 96 cases and 30 patients died.
Betsi Cadwaladr University Health Board was criticised by the Wales Audit Office and Healthcare Inspectorate Wales for weaknesses in its infection control procedures, along with other management failings, and senior figures at the health board stepped down.
The health board says it has strengthened procedures to bring hospital acquired infection rates down.
'Disappointed'
A Welsh government spokesperson said: "There has been a 34% drop in the number of deaths associated with MRSA in 2013 compared to 2012 and the number of cases has fallen every year since 2008.
"We are disappointed that C. difficile associated deaths have increased for the first time in five years, but they have fallen every year since 2008.
"For both C. diff and MRSA blood stream infections we have set new national targets to reduce the rates by 50% by the end of September 2015."