Wales Sport Awards to honour brightest elite and local stars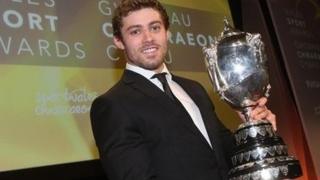 The search has begun to find Wales' brightest sporting stars of the year.
BBC Wales and Sport Wales will host the ceremony which will honour local heroes alongside top sports people.
The Wales Sport Awards will be held in December and will include the famous BBC Cymru Wales Sports Personality of the Year announcement.
It is hoped the event will be the country's biggest annual celebration of the best elite and grassroots athletes from the sporting world.
"It's been another year of real achievement in Welsh sport," said director of BBC Cymru Wales Rhodri Talfan Davies.
"Our sportsmen and women have set the pace both at home and abroad - culminating in a thrilling and highly successful Commonwealth Games.
"The Wales Sport Awards event is the perfect opportunity for us all to look back on a very special twelve months and to salute those who have made a real mark."
Nominations will take place until Friday 26 September for:
Young Coach of the Year
Community Coach of the Year
Young Volunteer of the Year
Volunteer of the Year
Coach to Disabled People of the Year
Lifetime Achievement Award (Community)
The full details of all the categories and how to nominate for these categories are on the Wales Sports Award website.
Chairwoman of Sport Wales Prof Laura McAllister added: "Last year we had a wide range of high quality entries, all deserving of recognition in their own right, and I am looking forward to hearing more of the inspirational stories as part of this year's panel."
Details for BBC Cymru Wales Sports Unsung Hero (public nomination with panel decision on winner) will be announced on Monday, 8 September, with information about BBC Cymru Wales Sports Personality of the Year (a public vote from panel shortlist) to follow in late November.