Jamie Shadrake: Soldier was shot as warning being sent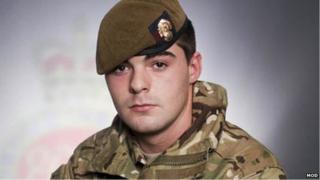 A Wrexham soldier was fatally shot at an army checkpoint in Afghanistan just as a warning was being radioed to the base's commander, an inquest has heard.
Guardsman Jamie Shadrake, 20, of 1st Battalion Grenadier Guards, died after being wounded in August 2012.
The inquest in Ruthin heard from an officer who said he could hear the attack start as he was contacting the checkpoint to pass on the warning.
The hearing is expected to last three days.
Guardsman Shadrake, who joined the Army at 17, was shot during an attack in the Nahr-e Saraj district of Helmand province three days after his 20th birthday.
Giving evidence, company commander Maj Piers Ashfield said Guardsman Shadrake was an exceptional soldier.
He had been part of a reconnaissance operation attached to Queen's Company intended to disrupt a Taliban heartland.
Under attack
He was on duty at a temporary checkpoint known as TCP 40 on the afternoon of 17 August 2012 when the compound came under attack by grenade launchers.
He was given medical attention but died from gunshot wounds to his head and chest, the inquest was told.
Maj Ashfield said it was standard procedure for sentry points to be singly manned during daylight hours, and doubled up at night.
The major, who was based at another temporary checkpoint in the region, told the inquest that he had received intelligence from a local Afghan man that a checkpoint was about to come under attack that day.
"As I radioed the boss of the TCP, I could hear it [the attack] in the background," he said.
The coroner for North Wales East and Central, John Gittins, asked the major if Guardsman Shadrake would have heard the radioed warning.
Maj Ashfield said the warning message would have needed to be relayed to the guardsman.
'Explosions'
Capt Michael Dobbin, who was in charge of TCP 40, told the inquest that trees and dense foliage in the area could present challenges, but the point where Guardsman Shadrake stood gave a clear view of the track next to the compound.
The attack lasted about a minute.
He called out to Guardsman Shadrake before approaching but had no response.
"As soon as the attack happened I was aware it was more than what we previously experienced," he said.
"I was very aware there were explosions to my right and left and gunfire from a direction I wasn't sure. It felt we were being attacked from more than one position."
Shell casings were later discovered 40 metres away.
Capt Dobbin explained there were lessons to be learnt from all attacks.
Eight members of the military, including some of Guardsman Shadrake's comrades, are expected to give evidence.