£6.7m historic garden restoration bid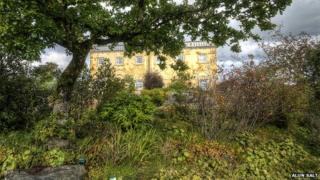 Experts hope to unearth the original landscape on the historic site of the National Botanic Garden of Wales in Carmarthenshire in a £6.7m project.
If given the go ahead it will see the restoration of seven lakes and waterfalls created 200 years ago when it was home to a wealthy family.
The garden has just been given £300,000 from the Heritage Lottery Fund to develop the plans.
The project also aims to uncover the estate's original Middleton Hall.
"It is an ambitious project and the most significant undertaking since the garden opened in 2000," said boss Dr Rosie Plummer.
The Regency landscape was regarded as one of the finest water parks in Britain featuring a "necklace of seven lakes, cascades, falls and weirs".
The Middletons who settled in Carmarthenshire in the 16th Century built a fortune from overseas voyages trading in spices in the East India Company.
But it was Sir William Paxton who set about developing the landscape when he acquired the estate in the 18th Century after the Middletons' fortunes changed.
Timeline of Middleton Hall
Early 1600s: The first Middleton Hall was built
1793: The old mansion was turned into a home farm and a new mansion was built after being acquired by William Paxton
1824: Mr Paxton dies and the estate passes through several hands
1931: The mansion was gutted by fire
1939: Lakes were drained
1930s: Carmarthenshire council bought the estate
1954: Derelict walls of the mansion were pulled down
1978: Scheme was set up to restore some parts of the park for public
Mid 1980s: Painter William Wilkins conceived the idea of a National Botanic Garden of Wales
Source: National Botanic Gardens of Wales
Garden head of development, Rob Thomas said: "With the decline in the Middleton fortunes, the estate was acquired in the 1780s by Sir William Paxton, a Scot returning from his East India Company service as one of the wealthiest men in Britain.
"He set to work, creating the blueprint for the landscape, employing the finest minds of the day to design the mansion, gardens and necklace of lakes that surrounded his hilltop home.
"He would have been acutely aware of the Middleton history that he was buying into.
"This truly was the heyday of the estate."