Volunteer Naomie Greenslade slashed in Morocco attack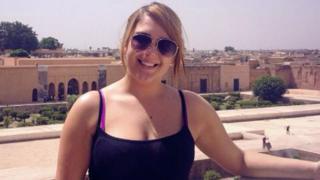 A Welsh woman has told of a terrifying attack by a man armed with a machete while she was working in Morocco.
Naomie Greenslade, 22, from Bargoed, Caerphilly, was walking to her accommodation after volunteering in an orphanage when she was attacked.
She was mugged and slashed with a "butcher-like blade" causing a gaping wound to her thigh just four days into her trip.
A local man has been arrested on suspicion of attempted murder.
Ms Greenslade was walking to her accommodation in Marrakech with friends at around midnight on Wednesday when the group were approached by a man brandishing a bladed weapon.
He demanded that she hand over her bag she was wearing across her body.
But when she refused, he slashed the bag and her leg with the blade.
"I looked down and saw a lot of blood, then I lifted my dress up and saw the wound," she told BBC Wales.
"I was shaking and very cold.
"I work as a first responder for the Welsh Ambulance Service back home, so I knew what to do."
Her friends and local people used clothing to stop her leg from bleeding and she was taken to hospital where she needed more than a dozen stitches to close the wound.
Following the attack, the company she is volunteering for, Norwich-based Original Volunteers, offered to pay for her flights home.
But Ms Greenslade declined the offer and intends to return home, as planned, on Sunday.