Anglesey, Pembrokeshire seabirds face 'triple whammy'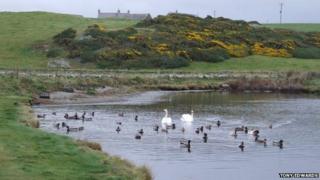 Extreme weather is taking its toll on sea bird populations in Wales, the National Trust has warned.
It has looked at 10 breeding colonies around the UK coast, including sites on Anglesey and in Pembrokeshire.
Species like terns are particularly vulnerable to a "triple whammy" of weather, the risk from predators like foxes and crows and also disturbance from people enjoying the coast.
The NT wants more regular monitoring to detect changes in seabird colonies.
It looks after 742 miles of coastline, including Middleholm island off Pembrokeshire and Cemlyn Lagoon, near Cemaes Bay on the north Anglesey coast.
Its role includes managing public access to the sites so people can view the birds, while at the same time protecting their populations.
But Dr David Bullock, the NT's head of nature conservation, told BBC Radio Wales, said work was needed to protect birds from a variety of threats.
"Some of the more sensitive species are the terns," he said.
"These are colonial ground-nesting seabirds - like small gulls - nesting in quite big colonies. These colonies are quite important - they can mob predators and frighten them away."
But he said storms can "burst through" and leave the birds vulnerable.
"On Anglesey at the Cemlyn Lagoon, the shingle beach there protects the birds but if the water gets out in the storms, then the foxes will get in and be able to walk across to the island."
"Part of the problem is we don't have enough space for birds to move on to.
"But we need to plan ahead for that terrible possibility, and look to the whole of the Irish Sea, not just Wales, but Ireland and to where these birds may go."
Scientists working on Skomer Island off Pembrokeshire have already reported a huge mortality among its seabird population - with 40,000 dead birds picked up after last winter's storms, almost half guillemots.
'HIGHLY SIGNIFICANT' BREEDING SITES
Strangford Lough, Carlingford Lough, Rathlin and Sheep Islands, Lighthouse Island, Northern Ireland
Cemlyn Lagoon, north Anglesey coast
Middleholm, Pembrokeshire
Lundy Island, Devon
Orford Ness, Suffolk
North Norfolk coast at Scolt Head and Blakeney Point, Norfolk
The Northumberland coast
The Farne Islands
Source: National Trust