'World can learn' from Wales' coastal path, experts say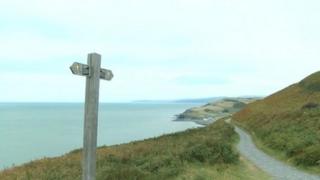 Other countries can learn from the way Wales has created the first footpath to follow a country's coastline, says the Royal Geographical Society (RGS).
It says a "number of international lessons have been learnt" from creating the path from River Dee in Flintshire to Chepstow in Monmouthshire.
The RGS said the path, opened in May 2012, has brought "transformational change" for those that live along it.
The coastal path stretches 870 miles (1,400km) around Wales' coast.
An RGS conference in London heard rest of the world could learn from Wales' experience.
Chris Parker, from mapping agency Ordnance Survey, said: "This is a great story of a nation holding onto its dreams and making something truly transformational happen.
"The project has been a resounding success and a number of international lessons have been learnt in the process of achieving this world first."
One of the speakers was Jane Davidson, Wales' former environment minister, who was responsible for delivering the initiative.
She said: "I would love to see other nations start to build their own coast path projects.
"The Wales Coastal Path is delivering real benefits and allowing people to celebrate, embrace and experience our extraordinary landscape."