Birds abandoned in box in alley in Porth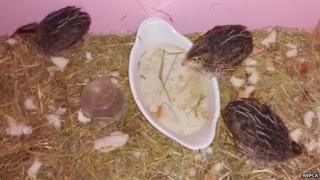 Three quails found abandoned in a cardboard box in an alley in south Wales are being looked after by RSPCA staff.
A member of the public found the small birds in the box off Trebanog Road, Trebanog, Porth, on Monday
Insp Selina Chan said the quails appear healthy.
"Perhaps somebody had purchased them recently not knowing what they were doing with them," she said.