Drink-related crime down in Wind Street, Swansea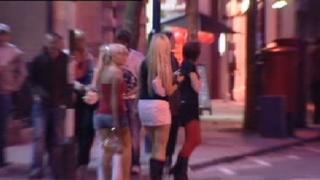 Drink-related crime in Swansea's main area for nightlife has fallen by more than a third.
South Wales Police said Wind Street had seen "significant reductions" in crime since launching a crackdown.
Officers have mapped trouble-spots in the city centre to tackle potential trouble before it starts around bars and clubs.
It involves moving in to deal with low-level drunkenness before behaviour can turn into violence.
'Right place'
The figures for the first three months show a 37% reduction in all alcohol-related crime compared to the same period the year before.
It includes violent crime, assaults and disorder.
Drink-related violent crime on its own is down 12.8%.
Chief Inspector Jason Davies, who has responsibility for policing in the city centre, said officers give people warnings or even ask them to leave the city centre.
"The new policing methods ensure we have the right number of officers in the right place at the right time," he said.