More homophobic hate crime in South Wales reported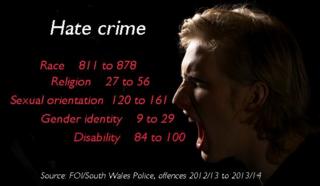 More people are reporting homophobic and transgender hate crime in South Wales, according to new figures.
Hate crimes on the grounds of sexual orientation jumped from 121 to 161 in a year, while gender identity crimes in the force area rose from nine to 29.
South Wales Police said hate crime had been under-reported and it was "working to encourage" victims to come forward.
One support organisation, the Unity Group, said more people now trusted the police to take hate crime seriously.
The Swansea-based agency works supporting lesbian, gay, bisexual and transgender people and groups.
Chief executive Andrew Davies said: "Last year for every nine callers we'd get, only one would end up going on to report hate crime to the police.
"Today, it's about two in nine. There's still some distrust of the police but we've been working with the force and getting it out to the community that the police aren't what they were 30 or 40 years ago."
'Ugly head'
He said the police having a positive presence at Pride events was also helping to build up trust.
"I'm quite happy to see the figure go up - it's a much better picture of what's going on," added Mr Davies.
There were a total of 1,224 hate crimes recorded in the South Wales area in 2013/14 compared to 1,019 the previous year.
A force spokeswoman added: "What is equally important is to see increasing levels of satisfaction of hate crime victims, particularly in the follow-up after an incident has been reported to us."
The figures were obtained from police forces from Freedom Of Information requests by Plaid Cymru.
Party leader Leanne Wood said: "Intolerance and hatred in all of forms must be confronted wherever it raises its ugly head.
"There is an obligation on all of us in our communities to work together with people from all backgrounds to stand up against hate crime and racism."