Dylan Thomas gate found by Michael Sheen on sale at auction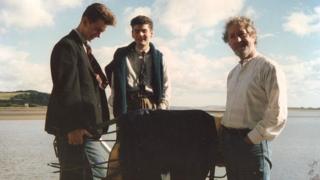 Actor Michael Sheen's little-known past as a metal salvager has come to light through one of the more unusual items in an auction devoted to Dylan Thomas.
As a teenager the star found a gate thought to be from the poet's boathouse home stuck in mud while walking with friends at Laugharne, Carmarthenshire.
Artist Charley Uzzell-Edwards - who helped recover the rusty relic in 1984 - said they got some puzzled looks.
The gate is expected to fetch up to £800 at auction next month in Cardiff.
Events have been taking place throughout 2014 to mark the centenary of the birth of Thomas, who died in New York in 1953 at the age of 39.
Sheen himself appeared in a new BBC Wales TV adaptation of the Swansea-born poet's "play for voices" Under Milk Wood in May.
'Mud larking'
Dylan Thomas spent his final years in Laugharne, a fixture on the tourist trail for fans from all over the world.
Mr Uzzell-Edwards told BBC Wales how he and his artist father John found the gate while visiting Laugharne with Sheen.
"We were walking down the hill on a jolly boys' day out to check out the boathouse when we saw this metal sticking out of the mud," he said.
"Me and Michael were wearing cords and chunky sweaters in the Brideshead Revisited style of the time - not really dressed for mud larking - but we managed to get it out.
"My dad had a photo of Dylan Thomas standing in front of the gate of the boathouse so we knew it was the actual one.
"Some American tourists passed us on our way back up the hill with the gate - they must have thought we were a funny looking bunch."
Mr Uzzell-Edwards, whose father died earlier this year, said the gate had been on show in the garden of the family's Carmarthenshire home and he wanted to sell it to raise some money for his mother.
"It would be nice if it went to a collector who would appreciate its history - in my dreams an American will see it and think it's just the thing he needs," he said.
Lifetime likeness
A bust of Dylan Thomas said to be the only one sculpted while he was alive is one of the other highlights of the centenary auction, which includes a range of books, letters, manuscripts and mementoes.
Made by sculptor and friend Hugh Oloff de Wet, the cold-cast resin bust is predicted to fetch up to £5,000.
It is accompanied by the sculptor's original drawing for the piece and one of 10 bronze miniatures he cast.
The 60 lots of Thomas-related memorabilia also include a medical report on the actor Richard Burton clearing him as fit to take part in filming for the big screen adaptation of Under Milk Wood in 1971.
The last lifetime portrait of the Swansea-born poet - an oil painting by Gordon Stuart - is also on offer.
The auction takes place at the Rogers Jones salerooms in Cardiff on Saturday 6 September.