Scotland urged to 'stay in family' by Stephen Crabb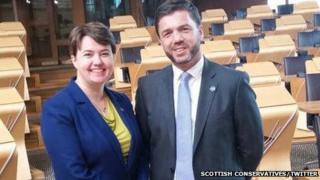 Both the Welsh secretary and Wales' first minister have urged Scottish voters to stay in Britain.
Welsh Secretary Stephen Crabb, campaigning in Scotland, said: "Britain is a family of strong nations."
Carwyn Jones, writing in the Daily Record, said the idea of a currency union with an independent Scotland would be "bad for Britain".
But Plaid Cymru leader Leanne Wood said an independent Scotland could be a "great partner" for the Welsh people.
The SNP said a Yes vote followed by a currency union would benefit both Scotland and the rest of the UK.
Mr Crabb, who was born in Inverness but brought up in Pembrokeshire, said most Welsh people were hoping Scotland "stays part of the family".
But he said even with a No vote on 18 September there was a demand for change in Scotland.
"By voting 'no thanks' to independence it's not saying no to more change," said Mr Crabb.
"There's a big, big appetite for more powers and more constitutional development," he told BBC Radio Wales.
Mr Crabb was speaking on Monday, before Scotland's First Minister Alex Salmond and Better Together leader Alistair Darling went head-to-head in a live TV debate on independence.
In an article also published in the build up to the debate, Carwyn Jones said he did not want Scotland to leave the UK but would respect a Yes vote and Wales and Scotland would "remain friends".
But he added: "If Scotland decides it does not want to share in our union, then Scotland cannot expect to share in the institutions of the union."I would strongly oppose the idea of a currency union with an independent Scotland because I believe it would be bad for Wales and the rest of the United Kingdom."
He recalled the banking crash when swift decisions were needed with "speed and sureness".
"As Welsh first minister I do not see why in similar circumstances I would have to wait around for the finance secretary of what would then be another country to make up his or her mind while the economy of Wales was in peril," he said.
Rich elites
However, speaking on Tuesday, Plaid Cymru leader Leanne Wood said an independent Scotland "would be a great partner for the people of Wales", arguing Wales could "achieve so much more than at present".
"An independent, forward thinking Scotland could be a beacon of hope and opportunity for Wales," she said.
"The UK is the most unequal country in the European Union, with the richest and poorest parts of northern Europe.
"The Westminster model of government, which keeps rich elites in power, is clearly broken, and Tory plans to privatise the NHS in England will leave us all worse off."
The SNP, which has accused the anti-independence campaign of "fear-mongering", dismissed Mr Jones's currency warnings.
SNP Treasury spokesman Stewart Hosie said: "Carwyn Jones isn't in a position to block anything, and Westminster can't stop Scotland using the pound.
"A currency union following a Yes vote is best for Scotland and for the rest of the UK.
"Given that Carwyn Jones wants to cut Scotland's budget by £4 billion a year, I don't think many people in Scotland will be impressed by his views," he added.
The £4bn cut claim refers to what the SNP says are the implications of calls for a needs-based formula to replace the current system system by which Wales and Scotland receive funding from the UK Treasury.
The calls have been made by the Welsh first minister, but also by opposition AMs, including Plaid Cymru's.