'Stronger border checks for radicals needed', says Cardiff MP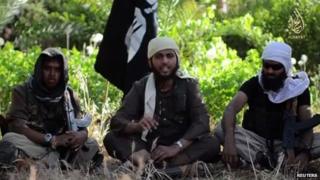 Stronger border checks are needed to prevent radicalised Muslims leaving the UK, says an MP with three constituents believed to be in Syria.
Cardiff South and Penarth MP Stephen Doughty said legislation targeting those who "groomed" recruits for militant groups must be considered.
Three men from Cardiff have boasted of their links with Islamic State.
The Home Office said it detains and interviews at the UK border those suspected of terrorism involvement.
Three men from Cardiff, Nasser Muthana, 20, his friend Reyaad Khan, also 20, and younger brother Aseel Muthana, 17, are believed to have joined jihadists fighting in Syria.
In June, Nasser Muthana and Mr Khan appeared in an online video filmed in Syria apparently urging Muslims to join Isis (Islamic State in Iraq and the Levant), now known as Islamic State (IS).
Commercial routes
In an online conservation with BBC Wales, Aseel Muthana said he was prepared to die for the cause.
Mr Doughty told BBC Wales' Sunday Supplement: "I have real questions about whether enough is being done in terms of checks at the borders and whether indeed we have the right legislation in place to tackle those who we suspect are trying to go overseas.
"This is about individuals we know to be at risk, individuals we know to be considering this type of activity, ensuring we have the strongest checks in place to ensure they are not able to travel.
"Unfortunately some of them are using commercial routes to get to places like Syria and Iraq and elsewhere and, unfortunately, we're not doing enough, as has been seen by the number that are out there fighting, to stop those individuals getting there."
'Strongest action'
Mr Doughty said the overwhelming majority of UK Muslims condemned the actions of militant groups such as IS.
But young Muslims were exposed to online materials which made them vulnerable to radicalisation because they were left "asking a series of questions that aren't being answered and they are choosing this terrible route".
A Home Office spokesperson said: "People seeking to travel to engage in terrorist activity in Syria or Iraq should be in no doubt we will take the strongest possible action to protect our national security, including prosecuting those who break the law.
"The police, security services and border force are actively working to identify, detect and disrupt terrorist threats, including from British fighters attempting to return to the UK.
"In addition to full passport checks, individuals travelling into the UK are checked against watch lists to ensure public safety."