South Wales policeman who died in World War One remembered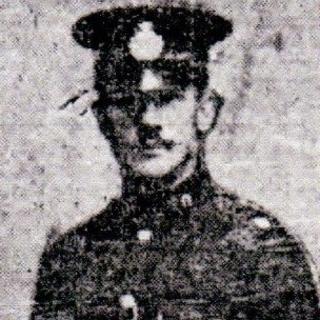 A former Swansea police constable is being remembered on the 100th anniversary of his death when he was fighting in the Army in World War One.
Pc Albert Appleton was killed in the Battle of Mons on 24 August 1914, just six days after arriving in France.
He was the first of 90 officers from South Wales' old forces to die in the war.
Based at Landore in Swansea, the 25-year-old had joined the police in 1913 after previously serving with the Army.
He was recalled to the Dorsetshire Regiment which landed in France on 16 August and then moved to Mons on Belgium to stop the German advance.
L/Cpl Appleton, who was engaged to marry a Swansea woman later in 1914, was killed in fierce fighting.
The South Wales Weekly Post reported that "his companions have lost a good pal".
One of his fellow police officers had said at his send-off to France that Appleton "would return with the VC".
The newspaper said that Appleton "replied with much gusto that Victoria Cross or no it would be a glorious death to fall fighting the country's cause."
Born in Middlesex, he had served in India with the Army and also played clarinet in the Army band. He continued playing when he joined the Swansea Borough Police.
During his short police career he helped rescue an 11-year-old boy from a slag tip near Morriston after he had become overcome by fumes.
South Wales Police Chief Constable Peter Vaughan said: "PC Appleton was the very first officer out of 90 from south Wales to lay down his life for his country.
"Often it is the individual stories, like that of PC Appleton, which help to bring the enormity of war into perspective and allow us to fully appreciate the sacrifices that were made to preserve the freedom of this country."
Chief officer Gareth Madge said PC Appleton was one of many South Wales police officers who served in World War One.
"Several hundred officers from the predecessor forces of South Wales Police - Glamorgan, Swansea, Merthyr, Neath and Cardiff - served during the First World War.
"We think about 400 of the Glamorgan force alone served and 58 of them were killed," he told BBC Radio Wales.
PC Appleton, who is being remembered with a photo display at the force's Bridgend HQ, is buried in the village of Houdain Lez Bavay in northern France, the only Commonwealth War Grave in the cemetery.