£3.2m lottery cash targets health and well-being work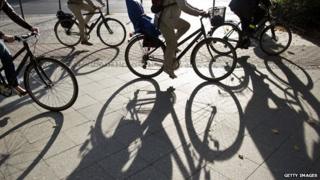 People will be encouraged to get on their bike to improve their health as part of £3.2m lottery cash grants.
Cardiff-based charity Pedal Power has £311,753 to help people with mental or health issues and ethnic minority women to cycle for the health benefits.
Its Changing Gear project in Cardiff, Vale of Glamorgan and Rhondda Cynon Taf, is among 14 sharing the cash.
Disability Can Do in Caerphilly has the largest grant, £571,252, to provide advocacy services for disabled people.
Llanelli Women's Aid in Carmarthenshire has £377,389 over three from the Big Lottery Fund's People and Places programme to tackle domestic abuse.
Director Victoria Pedicini said the grant would help put in place actions to break the cyclic pattern of domestic abuse and stopping abuse from escalating.
She said: "The project will support families who wish to stay together or help families to separate amicably. We are positive that the success of the project will encourage other similar organisations to work in this pioneering way."
Also in Carmarthenshire, the Betws Family Centre has £178,438 towards a project aiming to improve the health and lifestyles of 100 families in the Ammanford area.
Elsewhere, Epilepsy Wales has a grant worth £273,435 support 1,500 people across Wales directly or indirectly affected by epilepsy.
And in Cardiff, a £228,162 three-year grant for Cadwyn Housing Association will help it set up a refurbished furniture and goods project for vulnerable people and low-income families.
The work in partnership with The Prince's Trust will also allow work placements and skill taster sessions for so-called neets - young people who are not in education, employment or training.
Village hall
In Gwynedd, Talybont Community Group (TYB) has £34,334 to finish a new playground and recreational space in the village.
Jacqui Hughes, of TYB, said: "The children are very excited and can't wait to see and play in their new playground - it will make a huge difference to our rural community."
Other projects include £245,055 towards refurbishing Marchwiel village hall in Wrexham, £103,000 to reinstate a play facility at Cwmbran Park, Torfaen, and £37,500 for a walking, running and cycling trail around Caerwent playing fields in Monmouthshire.