Craig Maddocks's family backs knife surrender campaign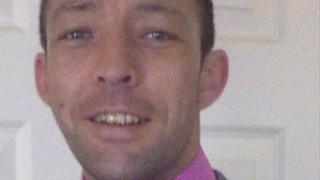 The family of a man killed after being stabbed 52 times in a Wrexham pub are backing an amnesty on knives.
Craig Maddocks, 34, was attacked with a flick knife during an incident in a toilet cubicle in June 2013.
His mother and sister are now supporting the campaign to try to prevent more stabbings.
Knife banks will be set up in towns and cities in several counties with the blades being melted to create a statue in memory of knife crime victims.
The project, which was launched in Birmingham, aims to see knife banks set up in towns and cities in north east Wales, Shropshire, the West Midlands and also Cardiff.
Those behind it will also tour communities, talking to young people and offering T-shirts and hoodies in exchange for knives.
Metal from the knives collected will then be turned into a 24ft sculpture of an angel as a tribute to those who died as a result of knife crime.
Amateur boxer Mr Maddocks was murdered at The Cambrian Vaults pub in Wrexham in what the judge called a "brutal and ferocious attack" by Francesco John Prevete, 46.
He will have to serve at least 23 years behind bars.
Mr Maddocks' mother Edna, who will attend the campaign launch with her daughter Lisa, said the project was helping the family deal with his death.
"It's been incredibly tough for all the family since Craig's death, so we really wanted to find something which we could do for Craig, for his memory," she said.
"Lisa heard about the campaign and we thought we ought to get involved.
"If this campaign helps take knives off the streets then we will feel we've done something positive."
The campaign's chairman Clive Knowles, who is managing director of British Ironworks in Oswestry, added: "We are indebted to Lisa, her family and indeed all of the families who have courageously come forward to offer their support."
Just over a third of all murders in England and Wales involve a knife.
There were 200 killings involving a knife or sharp instrument in the year ending in March 2014.
This was up by 3% from 195 offences recorded the previous year but the number is consistently around 200 each year.
Other serious knife crime has dropped over the last year.