Barry minor injuries unit closes for Nato triage centre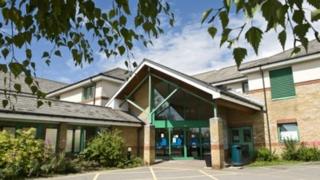 A hospital's minor injury unit will close during the Nato summit in south Wales next month as it provides staff for a treatment centre in Cardiff.
Barry Hospital's MIU in the Vale of Glamorgan will shut from 1-5 September.
Around 9,500 police from across the UK are to patrol the summit, hosting 150 visiting heads of state and ministers.
Cardiff and Vale University Health Board said the NHS staff will be part of a "triage and treat service" to support police and ambulance services.
The health board said it had looked keeping the unit open that week "but unfortunately it has not been possible".
It is advising people who need minor injury advice to contact their local GP, NHS Direct or to go to the emergency units at Princess of Wales Hospital in Bridgend, the Royal Glamorgan Hospital in Llantrisant or University Hospital of Wales in Cardiff.
Barry's MIU is to reopen on 8 September.
The focus of the summit on September 4 and 5 is at the Celtic Manor hotel in Newport, but events are also taking place in Cardiff.
Some 12 miles (20km) of steel fencing has been put in Cardiff and Newport to protect key routes into venues where the world leaders will be hosted.