Teenager raped woman in her 90s in her Cardiff home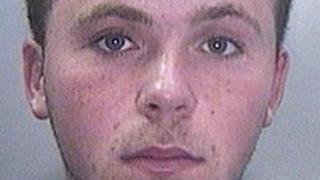 A teenager who raped a woman in her 90s in the hall of her home has been jailed for 16 years at Newport Crown Court.
Lee-Joseph Dixon, 18, forced his way into the house in Ely, Cardiff, as he made his way home from a party at 4am in May.
He "had not one ounce of pity" for his victim in the attack, the judge said.
Dixon, from Ely, admitted raping the widowed grandmother and will serve a minimum of eight years and be on the sex offenders register for life.
As she was attacked, the woman asked him: "Why is a young man like you raping an old woman like me?"
John Lloyd, prosecuting, told the court Dixon has been drinking at the party this year, and began knocking on doors as he walked to his home 300 metres away.
'Emergency'
The woman was in her dressing gown and barefoot when she opened the door of the house.
Dixon told her there was an emergency and forced his way into the property as soon as the door was opened.
After the attack, the woman called 999. Officers found her shaking in the hallway still clutching the phone.
The woman was in hospital for two weeks but now lives in a care home as she was unable to return to her home, where she had lived since she was a child.
In a statement to the court, her son said: "I am constantly surprised that this did not kill her.
"We are struggling to come to terms with how a young man can do such an horrific violating act to an old woman in her own home where she is meant to feel safest."
'Dreadful attack'
Judge DJ Hale told Dixon: "You wanted to satisfy your sexual urges and you had not one ounce of pity for your victim."
He added: "This is a particularly horrifying attack. You have blighted what remains of her life.
"Your victim was a fiercely independent woman who was living alone in the home where she had lived for most of her life, surrounded by her memories and possessions.
"It takes a great deal of courage to live alone at that age. But you ruined that for that night when you rang her doorbell.
"You have caused real physical and psychological harm."
Dixon admitted rape but said he had no memory of the attack.
'Life-altering'
South Wales Police Det Insp Stuart Wales said Dixon was arrested within 72 hours of the "dreadful attack" that "understandably caused a lot of public concern, particularly within the Ely community".
He said: "Stranger attacks on women, such as this one, are extremely rare.
"As with any such similar incident, when they do occur we have specialist officers to investigate these crimes and work closely with partner agencies to provide support to rape victims.
"This has been a life-altering experience but one where the victim and her family have shown remarkable emotional strength in dealing with what happened to her."
Kelly Huggins, Senior Crown Prosecutor in the Crown Prosecution Service's Wales Rape and Serious Sexual Offences Unit, said: "Lee-Joseph Dixon was responsible for a particularly brutal and abhorrent attack on an elderly and extremely vulnerable victim.
"Whilst it is right that Dixon has today had to face up to his actions in a criminal court, we should not forget that his reprehensible behaviour has had a devastating effect on his victim. She has understandably found it hard to return to the relatively independent life she had enjoyed prior to this horrific incident and our thoughts are with her."