Vandalism and thefts at religious buildings falls, figures show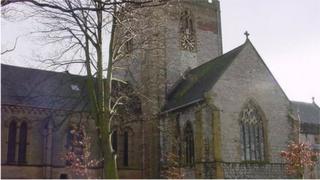 Thieves and vandals struck more than 300 times at churches and religious buildings across north Wales over the last three years, new figures show.
Incidents included stolen roof lead and fires, said Clwyd South AM Ken Skates, who made a Freedom of Information request.
There were 334 thefts and vandalism offences from April 2011 to 2014.
But Mr Skates said he was encouraged offences had fallen from 132 in 2012-13 to 83 last year.
Wrexham had the most at 79, and there were more than 50 each in Denbighshire, Flintshire and Gwynedd.
Anglesey had just 17 incidents while but Conwy had more than 60.
Mr Skates said: "These incidents include charity collection boxes being stolen, dozens of thefts of lead and other metals and also handbags, purses and wallets being taken.
"The police have also had reports of windows being smashed, break-ins and fires being started.
"I don't know what types of people would commit such crimes. Some of them would be sickening at the best of times, but when they take place in buildings that mean so much to so many people they're nothing short of despicable."