Businesses' call to extend rate relief 'ignored'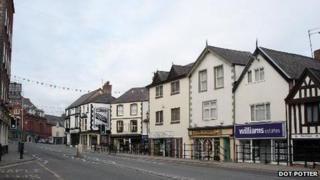 Businesses which signed an open letter to the first minister asking for an extension to small business rate relief have still not received a reply, it is claimed.
In May, 70 businesses sent the letter requesting firms with a rateable value of up to £12,000 receive 100% relief.
The current level applies to those with a value up to £6,000.
The Welsh government did not say why it had not responded but said an extension would support small firms.
"We have shown time and again that we are a government that supports business," a spokesman said.
"Extending the Small Business Rate Relief Scheme will support small firms across Wales with many paying no rates at all."
The current scheme also tapers relief for businesses with a rateable value between £6,000 and £12,000 and the signatories want that applied to ones with a value between £12,000 and £15,000.
'Footfall'
Welsh Conservative Shadow Minister for Regeneration Byron Davies AM said: "Business rates reform, simplified planning, free parking, town centre managers; these are just some of the detailed proposals within a Welsh Conservative high street strategy launched two years ago.
"Since then, Labour ministers - who have the power to do something about high street footfall in Wales - have announced almost nothing."
The letter to Carwyn Jones from the businesses said: "The vast majority of small business premises would be helped by this extension, with 73% being taken out of rates all together and a further 5% benefiting from tapered relief.
"Whilst we recognise that the Welsh government has announced a range of schemes relating to business rates, extending small business rate relief is a simple and effective way of supporting Welsh small and medium enterprises."