Boy, 4, saved by heroic passerby after falling into dock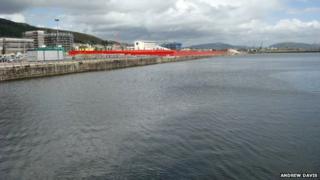 A four-year-old boy who fell into a marina was rescued by a passerby, coastguards have said.
The child plunged 6ft (1.8m) into the Old Prince of Wales dock, Swansea Marina, at around 17:00 BST on Saturday.
But the quick-thinking 50-year-old man jumped in to save him - without stopping to take off his shoes.
Swansea coastguard said the boy wandered away from his mother while she was feeding a one-year-old.
Mumbles coastguard rescue team volunteer Mark James said the rescuer had been at the nearby Beefeater restaurant with his family.
He said: "I don't think he even took his shoes off."
A coastguard spokesman said the boy's mother realised what was happening when she heard a commotion.
"She noticed the child was gone just as she heard the sound of splashing and people in the water," he added.
Ladder
Mr James said a teenager also jumped in to help bring the boy back up the ladder on the side of the dock.
The youngster was taken to the city's Morriston Hospital to be checked over.