Palliative care budget for 16 hospices rises £200k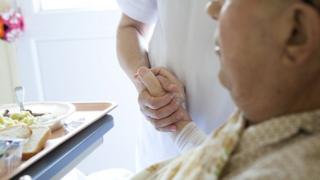 Palliative care funding for 16 hospices in Wales is to rise by £200,000 despite a slight drop in the overall budget.
The hospices will get £2.6m of £6.4m for palliative care in 2014-15, with the remainder shared by health boards.
Health Minister Mark Drakeford said the cash would mean specialist consultant, nurse and other health support was available in all parts of the country.
He said the funding aimed to provide care "whether a person wishes to die in hospital, in a hospice or at home".
Last year's budget for specialist palliative care services across Wales was £6.5m.
In April last year, the Welsh government published its Delivering End of Life Care Plan, setting out how inequalities in NHS Wales care will be addressed.
Announcing the 2014-15 budget, Mr Drakeford said: "No matter where you live in Wales, patients approaching the end of their lives should have access to consistently good care and support.
"With advances in modern medicine and treatment, more people live longer with incurable diseases.
"Where death can be expected, we must be prepared to have honest and open conversations about the end of life - it should not be a taboo subject."
Emma Saysell, Chair of Hospices Cymru, said the Welsh government money accounts for around 25% of hospice's annual budgets, the rest comes from charitable donations.
Responding to Monday's announcement, Age Cymru's Director of Influencing and Programme Development, Victoria Lloyd said: "End of life care needs to be a national priority.
"This why we need a long-term funding commitment from the government so that everyone who needs palliative care services can receive them. "