Actor Craig Roberts keeps new film in the family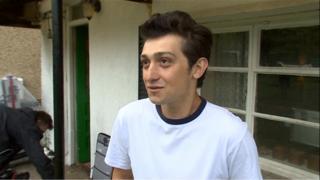 Craig Roberts has recruited his family to star alongside him in his directorial debut, Just Jim, being filmed in his hometown.
The actor, 23, won a BAFTA Cymru for the 2010 coming-of-age film Submarine and has written and and directed his latest film about a Welsh teenager and his American neighbour.
They've been filming in his Caerphilly county hometown for three weeks.
The film is expected to be released in 2015.
The filming has taken place in in Maesycwmmer and nearby Fleur-de-Lis.
"This is where I grew up. This is my home town, (and we're filming) the school that I went to. It's pretty cool, it's awesome. I'd love to make all my movies here," said Roberts.
Since starring in Submarine, Roberts has had a number of Hollywood roles and this year has appeared alongside Zac Effron in Bad Neighbours, and with Jonah Hill in 22 Jump Street.
In his latest production he plays the title role, Jim, while American actor Emile Hirsch plays his cool new neighbour.
"The film is about a normal teenager who's not having the greatest of times, and then his life gets turned upside down when an American guy moves in next door. I have written the script, I'm directing it, and I play the kid, Jim.
"It's pretty good, pretty intense, there's a lot of stuff to do, but it's pretty fun," he said.
Other cast members include fellow Welsh actors Richard Harrington, Nia Roberts and Aneirin Hughes.
The relatively small budget has meant all the filming has taken place over a three-week period in south Wales, while Roberts's mum and sister are among the cast.
His grandmother has also provided accommodation for some of the crew.
"The producers are staying at my nan's house, which is pretty good. My mum's in the film, my sister's in the film, a lot of people are in the film that I know. It's cool, it's really fun to do."
Just Jim is expected to be shown in cinemas in 2015.