St Asaph: Tourism sign plea for cathedral in newest city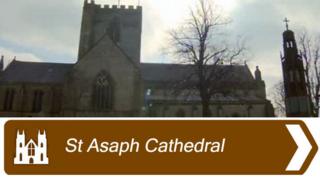 It is one of Britain's newest cities, its cathedral dates back 1,400 years, and now one of its leading churchmen wants a sign - a brown tourism one.
St Asaph in Denbighshire is on the map but there are fears it may miss maximising its tourist value without the distinctive signs on the A55.
Area Dean, the Rev Quentin Bellamy is looking into the issue on behalf of the cathedral friends.
"The cathedral has a unique position," he said.
"We're certainly looking carefully to find out what we need to do."
They have been advised though that the cost could be more than £10,000.
This would include covering lane closures to safely install signs on the dual carriageway - the main tourist route across north Wales.
According to Welsh government regulations covering brown signs, they also have to prove visitor numbers.
Mr Bellamy, vicar of Prestatyn, said this was "chicken and egg," with the signs only likely to add to the tourist numbers increasing.
"It's a bizarre situation," he added.
'Historic'
"They could be going to coffee shops, spending some time in the city but there will be tourists who are just shooting past."
The friends are to look at sources of funding and making a case for St Asaph, which has a population of just 3,400 but was created a city in 2012 as part of The Queen's Diamond Jubilee.
Amanda Hone is a self-confessed brown sign nerd, who writes the Follow The Brown Signs blog, and even quit her job to follow her extended hobby and now visits five brown sign attractions a week.
She said it was worth the cathedral joining forces with other local attractions to make a joint bid - but they would still end up paying.
"It is expensive - and it can take a long time but there are grants available and they should be able to argue the case and qualify for a sign," she said.
"There was a case of Lincoln recently which is very historic city with a cathedral and they wanted a brown sign off the A1 and it took them in the end 15 years, and the local MP had to get involved."
A Welsh government spokesperson said: "We have not received any applications for a brown sign for St Asaph Cathedral but would be happy to consider any that come in."