Running Wild star Bear Grylls compromises on harbour plan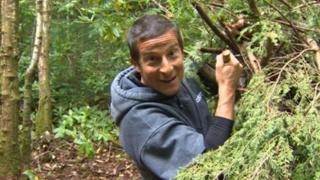 TV explorer Bear Grylls says he has come up with a "sensible compromise" over plans for a harbour on his island off the Gwynedd coast.
Councillors are due to consider the bid for a £580,000 harbour on St Tudwal's West on the Llyn Peninsula.
But Grylls, whose hit US survival show Running Wild takes celebrities out into the wilderness, said it would now be a slipway instead.
He said he altered the plans after visiting with environmental officials.
Grylls owns the island just over half a mile (1km) off Abersoch.
He wanted to build a harbour near the existing landing stage.
Speaking in Pwllheli at the launch of one of his Survival Academy courses, Grylls said he was now altering the plans after visiting the island with Natural Resources Wales officers.
"We've actually come up with a really sensible compromise plan where we'll actually build a slipway instead of a harbour and that keeps them [Natural Resources Wales] happy and that keeps the council happy," he said.
"We've found a good compromise that works for everyone."
The rocky grass-covered island is about 700m (2,000ft) long and 200m (650ft) wide.
Grylls, who is also chief scout with the Scout Association, added: "It's a spectacular area and we don't want to do anything which would ever threaten that - conservation is right at the heart of what we want to do."
However, the council has yet to formally decide on the application.
The explorer, his wife and three sons divide their time between the island and a converted barge on the River Thames.
Meanwhile, he told of his delight that his decision to explore the American TV networks had proved successful.
Celebrities who have joined Grylls for Running Wild include film stars Zac Efron, Ben Stiller and Channing Tatum.
Grylls said the series was "rocking" as the summer ratings hit on NBC and said it would be shown in the UK in the autumn.