Two million rise in prescriptions handed out in 2013/14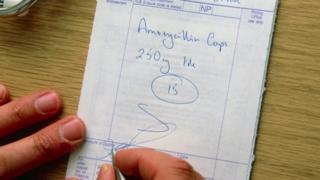 The number of drugs being prescribed by doctors in Wales has risen by two million over the last year.
The total number of medicines dispensed by GPs during 2013/14 was 76.3 million.
New data shows that more prescriptions are given per person in Wales - which scrapped charges in 2007 - than any other country in the UK.
Prescriptions have soared by nearly 49% over the last decade, and last year almost 25 were made out to every patient costing £179.17 per head.
The Welsh government say that it is up to doctors to decide if prescriptions are needed, but stress that the rise in drugs being dispensed is part of a trend also seen in England.
Wales, Scotland and Northern Ireland currently offer free prescription medicine on the NHS, with England charging for some drugs.
The Welsh Conservatives say that Welsh government's universal free prescriptions policy is becoming increasingly unaffordable and is open to exploitation.
'Freebie policy wrong'
They want to reintroduce charges for people on higher wages with exemptions in place for those with chronic illnesses.
Darren Millar AM, Shadow Minister for Health, said: "It is morally wrong that a millionaire in Wales could get free paracetamol and athlete's foot powder for free yet cancer patients are seven times less likely to be able to access different life-extending medicines on the Welsh NHS."
"Labour's freebie policy has devalued medicines and led to more prescriptions being wasted because they have no perceived value."
But the Labour-run Welsh government says that their policy has long-term health benefits.
"The increase in prescriptions dispensed in Wales is similar to the rising trend seen in England - the number of items dispensed in Wales has gone up 23% between 2007 and 2013 compared to 29% in England, where the charge is currently £8.05 per item," said an official.
A Welsh government spokesperson added: "We are proud of our record of making prescriptions available to all for free, removing a barrier to long-term good health."