Anxious wait for A-level results, with just one day left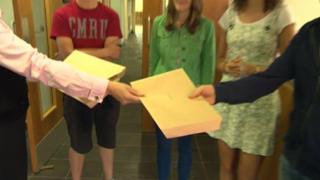 It's the same every year, across Wales and beyond. After the anxious wait, it is A-level results day.
It opens up the gateway to university or the world of work.
And in Wales students get the most generous support package of any part of the UK.
Welsh students pay the first £3,500 of their tuition fees. The Welsh government picks up the tab for the rest wherever they study in the UK.
Adam Stewart, from Wrexham, is spending the summer doing an office job before, he hopes, heading off to study economics at Lancaster University. And while he knows he'll end up in debt, it doesn't put him off.
"The debts do build up, but people cope, people are fine once they get a job. For me it's not much of an issue, and I think a lot of people get frightened by the figures. So even if the Welsh government grant wasn't available I think university is still something I would look at, it wouldn't hold me back at all."
So will he be smug with his friends from England because he pays so much less than them?
"I might make a few jokes here and there. It's certainly a lot more noticeable with people I know from England that they are a lot more worried about the debt."
About two-thirds of students from Welsh universities got a job within six months of graduating. That's a little lower than other parts of the UK.
Sophie Davies, from Swansea, wants to go to university next year. In the meantime she's working at her local supermarket to get enough money.
"Obviously, you have more career opportunities with a degree, and I think the independence is important because you can stand on your own two feet and fend for yourself. And obviously there is still support from your parents, but I think it's good to make you grow up a bit."
But what if things don't go to plan tomorrow? That the results aren't what people had hoped for? That's where bodies like Careers Wales can help. They offer advice. And there's plenty to offer, according to one of their advisors, Iwan Hywel.
He said: "If they don't do as well as expected, the advice is to talk to family members, friends, and get in touch with us here at Careers Wales.
"There are other options available; they could look at re-sitting their A-levels at college or at the same school to apply for the same course again next year.
"They could go through the UCAS clearing system to see what's available, other courses. And of course there are other options such as higher apprenticeships or Jobs Growth Wales which are jobs placements for young people aged 16 to 24. So there are a lot of options, don't panic. And research things."
Last year, around 30,000 pupils from Wales went on to university, around 59% of those who were in Year 13. So a good proportion decide against higher education.
Apprenticeships are an increasingly attractive offer. Research for British Gas suggests that over a third of young people see it as an alternative to university, and the firm has 50 applicants for every engineering apprenticeship.
Its training academy at Tredegar, Blaenau Gwent, teaches some of their 1,200 apprentices. Kirsty Williams was one of them.
'Focus'
She said: "I chose to do an apprenticeship because I felt that training and working in the field gives you more experience, whereas A-levels, you train for two years, qualify, get a job, and then you get your experience.
"I did start A-levels, but because there was no goal to reach at the end and I didn't have a focus, there was nothing driving me to complete."
So yes, tomorrow's a big day. But the message couldn't be clearer. If it doesn't quite go to plan, there are plenty of opportunities out there.