Funding to help services cope with sex abuse cases rise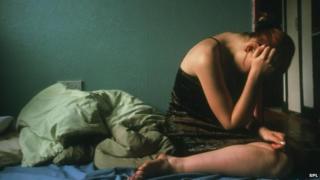 More victims of sexual violence are seeking help after recent celebrity court cases have given them the courage to come forward.
Extra funding will be given to support services by the Welsh government to cope with the surge in demand.
Five organisations will share the £105,000, which will be used to help reduce waiting times to get help.
One charity said recent celebrity court cases and reporting had given victims the strength to come forward.
In July Rolf Harris, 84, was jailed for five years and nine months for 12 indecent assaults on four girls. While in May Max Clifford, 71, was jailed for eight years for indecent assaults against four women and girls between 1977 and 1984.
Mike Wilkinson, deputy chief executive at rape crisis and sexual abuse support service New Pathways, based in mid and south Wales, said the charity received nearly 2,500 referrals last year and its waiting lists in some areas for victims of historic abuse were extremely long.
"Undoubtedly recent high profile sexual abuse cases have been a major contributory factor, and whilst it is extremely positive that people feel more confident to come forward and seek help, there are also obvious resource implications for specialist support services, many of which are already operating way beyond capacity."
He said the money would have an immediate impact on the length of time victims wait to access its services.
'Significant increase'
The one-off funding will be shared between New Pathways, Seren in west Wales, and Stepping Stones and RASASC based in north Wales.
The money will also pay for a part-time national development manager at The Survivors Trust - an umbrella body which represents the other organisations.
The role will include giving advice to the Welsh government on developing policies which cover sexual violence.
Local Government minister Lesley Griffiths said the money would ensure sexual violence services were better equipped to meet a "significant increase" in the reporting of historic sexual abuse.
She said this rise was "unsurprising" given the number of high profile experiences and criminal cases reported in the media.
"It is highly unlikely this demand will decline in the foreseeable future, so the funding is very important both in terms of direct service provision in the immediate term and capacity building for the future," she added.