World War One: The Wales rugby caps who lost their lives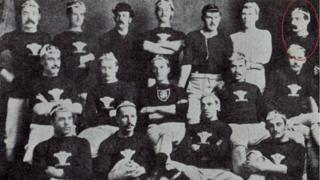 No walk of life in Wales was immune from World War One, and from 1914, sportsmen swapped the fields of play for the fields of Flanders and northern France. Among them, 13 Welsh rugby internationals answered the call - and never returned.
Richard Garnons Williams, one cap, 1881
Born 1856 in Llowes, in the former county of Radnorshire. He was killed in action in the Battle of Loos on 27 September 1915 aged 59.
He had been a retired Army officer when he rejoined at the outbreak of the war and died leading the 12th Royal Fusiliers.
Garnons Williams only won one cap - and it was notably in the first Wales international against England.
Charles Taylor, nine caps, 1884-1887
Born 1863 in Ruabon, north Wales, he played for played for HMS Marlborough, London Welsh and Blackheath.
He had a long career in the Royal Navy, where at the time of the outbreak of World War One he was an engineer captain.
Serving first on the Queen Mary, he was on HMS Tiger when he died in the Battle of Dogger Bank in 1915 during a battle with a German cruiser. He was aged 51 and was the first Welsh international to die in the war.
Lou Phillips, four caps, 1900-1901
Born 1878 in Newport, he was part of Wales' Triple Crown-winning side, although his career was shortened by injury.
Phillips was also known as a talented golfer, swimmer, water polo player and cricketer - representing his home town in five sports.
Unfortunately, he was badly injured playing for Newport and struggled with a knee injury in his final Wales match, which proved to be the end of his rugby career. He carried on playing golf before the war.
An architect by profession, he refused a commission and became a sergeant in the Royal Fusiliers. He was killed in action in Cambrin in March 1916, aged 38.
Dick Thomas, four caps, 1906-1909
Born in 1883 in Ferndale, Rhondda, as well as his local side, the father of two also captained Mountain Ash.
The former collier turned policeman was a fine and tough forward, but illness curtailed his international career although he still managed to appear in two Grand Slam teams.
As a company sergeant major with the 16th Battlion Welsh Regiment- which included a number of rugby players - and he was killed leading his men at Mametz Wood in the Somme on 7 July 1916, aged 35. He would have qualified for a bravery award but in those days, they were not given posthumously.
A colleague who survived recalled movingly in the 1980s of how he saw Dick die and how he hid behind his prone body during the worst of the attack.
Dai Westacott, one cap, 1906 and Charlie Pritchard, 14 caps, 1904-1910.
Westacott was born 1882 in Cardiff and played for his local side, before the forward won his one cap against Ireland.
He served as a private in the Gloucestershire Regiment and had been injured at the Somme before he was killed in action in Wieltje, Ypres in 1917.
Pritchard was born in 1882 in Newport and played a starring role in the Wales side which beat the touring All Blacks in 1905. Historian Gwyn Prescott said he was one of Wales' greatest forwards.
He died on the Western Front in 1916, aged 34. As a captain in the South Wales Borderers, he was mortally wounded in a raid on German trench positions.
His reputation was a chivalrous player, who never committed a foul but was brave as a lion. It was a description that equally applied to his war service, according to tributes after his death.
Phil Waller, six caps, 1908-1910, and Johnny Williams, 17 caps, 1906-1911.
Waller was born in 1889 in Bath and played for Newport. Although born in England he came to south Wales in his youth as part of the huge migration. He had a reputation as being a very mobile forward.
After touring with the British Isles side in South Africa in 1910, playing in 23 tour games. He stayed on and played his rugby in Johannesburg in 1910. He joined the South African Heavy Artillery and served for two years before he was killed in action near Bapaume in 1917. He had just been given leave to go home when he and a colleague were hit by a random shell.
Williams was born in 1882 in Whitchurch, Cardiff. He won Grand Slams three times with Wales, was one of the superstars of a hugely successful side, while being known for his signature swerve and scoring 17 tries in his 17 matches.
He was described as a "universal crowd favourite" in a golden age, who played more than 300 first class games.
He died of wounds five days after an attempt to take Mametz Wood in the Somme in 1916 while a captain in the 16th Battalion Welsh Regiment.
Fred Perrett, five caps 1912-1913; Billy Geen, three caps, 1912-1913; and Bryn Lewis, two caps, 1912-1913
Wing Geen, born in 1891 played for his home town club Newport but never really fulfilled his full potential.
Although qualifying for England through his father and playing in a trial, the Oxford Blue opted for Wales but was dogged by injury and lapses of form.
One of the first to enlist, already as a office training corps background at public school. As a second lieutenant, with the King's Royal Rifle Corps, he was killed in action leading his men in an attack on a German machine gun at Hooge, Flanders, in 1915, aged 24.
Perrett was born 1891 in Briton Ferry and the steelworker played for Neath. Out of work, he turned professional with the Leeds rugby league club.
He enlisted in 1915 with the Welsh Guards and later became a second lieutenant in the Royal Welsh Fusiliers.
Perrett died of wounds a few weeks after the end of the war in December 1918, aged 27. The father of two had been involved in one of the last attacks of the war, a week before Armistice.
Lewis was born in 1891 in Pontardawe and a Cambridge Blue who played for his home town club and Swansea. He was mentioned in dispatches as a major in the Royal Field Artillery, 38th (Welsh) Division. He was killed in action in Ypres, France in 1917 by shellfire, aged 26.
Horace Thomas, two caps, 1912-1913
Fly-half Thomas was born, the son of a rector, in 1890 in Pentyrch and played his rugby for Swansea and Blackheath. Another Cambridge Blue, he went on to play in India.
He had won a choral scholarship to Cambridge and the coveted position of fly-half - so had something special.
As a second lieutenant with the Rifle Brigade, he was killed on the river Ancre during the battle of the Somme in 1916, aged 26. His last known words were "Come on boys, we've got 'em beat".
His body was never recovered.
David "Dai" Watts, four caps for Wales, 1914
Born in 1886 in Maesteg, Dai played for the town side but his Wales career came late on and was tragically brief.
It only started in January 1914 and was cut short by the outbreak of the war.
He was part of a tough pack, whose competitive nature led to the legend "the terrible eight" being attached to them during that season.
Dai joined the King's Shropshire Light Infantry and as a corporal was killed in action in Bazentin Ridge in France in 1916, aged 30.
Additional reporting: Melanie Lindsell & rugby historian Gwyn Prescott