Ex-hurricane Bertha: Showers follow torrential rain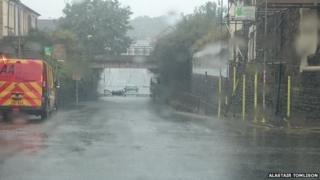 Heavy thundery showers are hitting mid and south Wales but the remains of ex-hurricane Bertha have moved away.
The only flood warning in place has been lifted with four flood alerts remaining while the Met Office's yellow "be aware" warning for 40mph winds in north east Wales has now passed.
Torrential downpours and strong winds affected much of Wales on Sunday before moving north.
Cardiff was worst hit with 47.4mm of rain falling, most within six hours.
Four flood alerts have been issued for Crofty, north Gower, north Wales coast, Usk Estuary and Wye Estuary in Monmouthshire.
Strong winds in the south have also led to speed restrictions on the M48 Severn Bridge but it is still open.
On Sunday, firefighters in south Wales attended incidents at a house in Cranbrook Street, Cardiff, and two in Newport.
Strong winds also brought down a tree on the A4232 between Atlantic Wharf and Knox Road in Cardiff.