Neil Hollinshead jailed for London Welsh RFC fraud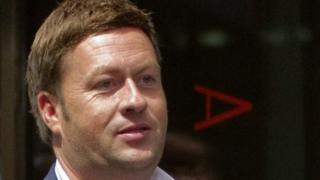 A "despicable" fraudster who posed as the head of an investment company and was supposedly backed by the Saudi royal family, has been jailed over his purchase of London Welsh rugby club.
Neil Hollinshead duped the struggling club's owners and RFU into paying his £350,000 solicitors to cover the club's debts and short-term running costs.
In return, he said he would invest £1m a year but the money did not exist.
The 36-year-old, from London, was given seven years at Southwark Crown Court.
Hollinshead targeted the Aviva Premiership club when it hit financial difficulties in 2009.
He paid a nominal £6, in a deal approved by the Rugby Football Union, and owned it for a few months until the club was returned to its former owners by a court, and he was declared bankrupt, from which he has not been discharged.
Judge David Higgins said: "It was a disastrous period for the club. It only survived because the original owners and various benefactors continued to fund it to the tune of many hundreds of thousands of pounds.
"It's plain to me that you produced not one penny of your own, let alone the £1m you promised, and which quite obviously never existed."
He added: ''You are clearly a man of great moral turpitude - indeed, I am entirely confident that you would do it all again tomorrow if you thought you could get away with it."
He said his investment in July 2009 was at a time when the club "was in great financial hardship and was to go into administration".
"Your actions caused London Welsh to incur even greater losses caused great damage to the reputation of the club," the judge said.
Hollinshead's trial heard he claimed he was backed by Saudex Global and its chairman Prince Khalid, the great nephew of Saudi Arabia's King Abdullah.
But London Welsh later discovered the Saudi prince had never met Hollinshead.
The club had also been emailed by an HSBC employee showing Hollinshead's Red Dragon company had £1.4m in the bank.
But the board was later informed there was no record of a deposit and that the employee did not exist.
Hollinshead was successfully sued in the High Court in 2009 for more than £404,000 by London Welsh, before being declared bankrupt.
He denied masterminding a series of frauds between October 2008 and April 2010.
But the jury unanimously found him guilty of three counts of fraud by false representation.
Hollinshead's partner, Yasmin Ibrahim, 44, will be tried separately for her alleged role in the fraud after suffering from ill health.