Cost of farmland in Wales 'sees biggest increase' in UK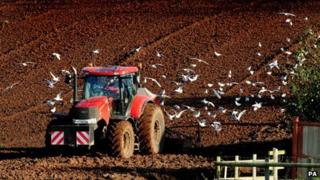 The cost of farmland in Wales has increased more than anywhere else in the UK, new figures show.
The average price per acre is £8,625 - 7% higher than the national average, according to the Royal Institution of Chartered Surveyors' (RICS) Rural Land Survey.
It says growth in demand continues to outstrip that of supply and this is pushing up prices.
The price of land is four times what it cost when the records began in 1994.
RICS senior economist Joshua Miller said the expectation was that there would be further increases in farmland price over the next 12 months.
"Demand remains very strong on the commercial side, particularly from farmers keen to expand production on to neighbouring plots," he said.