Carwyn Jones drawn into Falklands Islands comments row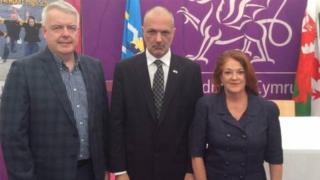 The Welsh Conservatives say First Minister Carwyn Jones should distance himself from 'distasteful' comments over the Falkland Islands' sovereignty.
He met Argentina's ambassador to discuss next year's 150th anniversary of Welsh settlers in Patagonia.
Alicia Castro claimed the settlers' integration disproved 'propaganda' of Argentina's hostility towards British descendants.
The Welsh government said it was not discussed.
The Welsh Conservatives say Mr Jones has been used as a 'pawn' in the long-running diplomatic row.
In a press release issued after their meeting on Wednesday, Ms Castro said she "refutes the propaganda from a sector of the Malvinas Islands' inhabitants portraying Argentina as hostile, in an attempt to justify the UK government's refusal to resolve the sovereignty dispute."
Welsh guardsmen
Andrew RT Davies, leader of the Welsh Conservatives, said that Mr Jones was 'naive' and called on the first minister to make his position over the Falkland Islands clear.
"I would expect the Welsh government to have seen this statement prior to its release. If so, it is extremely naïve for Labour's first minister to allow himself to be used as a pawn in this dispute and an explanation is swiftly required.
"If the statement was not seen, it is incumbent upon Carwyn Jones to immediately distance himself from the context of the statement and the comments highlighted, which many will find distasteful."
"A number of Welsh guardsmen lost their lives liberating the Falklands and all should be remembered.
"The islands should remain British for as long as their inhabitants wish and I urge Labour's Carwyn Jones to publicly join me in making those statements."
The Argentine ambassador was part of a delegation which also included the governor of the Chubut Province, where the Welsh settler celebrations will take place in 2015.
In a statement, the Welsh government said: "This matter is non-devolved and was not discussed at the meeting between the first minister and the governor of Chubut Province, Martín Buzzi, yesterday.
"The meeting was an opportunity to re-sign the memorandum of understanding between Wales and Chubut in order to reflect the change in constitutional arrangements in Wales.
"As there has been significant interest from numerous organisations across Wales in next year's 150th anniversary of the arrival of Welsh settlers to Chubut this was also an opportunity to raise the profile of these celebrations."
The UK government has been asked to comment.