Police cars used as ambulances more than 600 times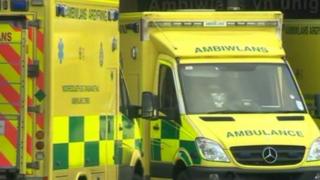 Hundreds of patients in Wales were taken to hospital by police because ambulances were not available.
Figures show more than 600 people have been taken to hospital by police cars in the past three years.
In south Wales the number increased from 83 in 2012-13 to 187 a year later.
The Welsh Ambulance Service said it was missing its eight-minute target and crews were "tied up" and unable to respond to other calls.
Police dealt with a wide range of patients, including those who had attempted suicide, been involved in assaults or stabbings, suffered drink-related injuries or had hypothermia.
The figures were gathered through a Freedom of Information request by Plaid Cymru asking how many times each police force was asked to take patients to hospital because of lack of availability of ambulances.
Statistics show that 51 people in the Gwent force area were taken to hospital by police over 10 months of 2013-14 and 19 in north Wales.
'Cannot be acceptable'
Dyfed-Powys Police did not provide figures.
Plaid Cymru's health spokesperson Elin Jones said the ambulance service is currently facing "real challenges" to turn itself around.
"It cannot be acceptable that, for instance, three people on average a week in south Wales are being taken to hospital by police car," she said.
"My fear is that one day someone may die in a police car while on the way to hospital because an ambulance is not available. There clearly needs to be better management within the NHS so that vehicles aren't tied up waiting at hospitals."
Number of times forces were asked to take patients to hospital
Gwent Police: 199
North Wales Police: 65
South Wales Police: 342
Dyfed Powys Police: Too costly to provide the information.
Source: Freedom of Information request covering April 2011-April 2014
Mike Collins, director of service delivery at the ambulance service, said the organisation was working as hard as it could take patients to hospital as quickly as possible.
"The trust is working in partnership with police forces across Wales to reduce instances where our emergency colleagues are awaiting an ambulance response," he added. "Both the trust and all four police forces maintain frequent contact and are building on the close relationship in support of each other and their staff.
"Despite the increase in calls that we experience year on year we are actually reaching more and more people across Wales than ever before."
The Welsh government said the figures represented about 0.05% of calls to the ambulance service over the period.