Trouble, tears and triumphs, how Glasgow 2014 had them all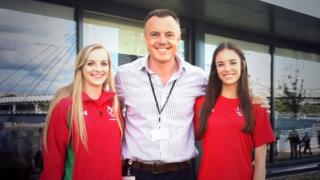 I never expected to be standing in the street in my pyjamas with Rebecca Adlington and Sir Chris Hoy.
I have very little in common with these greats of British sport. But last weekend, we were united in the shared experience of a fire alarm at the BBC hotel at three in the morning.
We didn't say much, as we emerged bleary-eyed onto the pavement in our dressing gowns. Post-pub drunks staggered past with their cheese and chips, too inebriated to notice a stellar cast of Olympic medal winners gathered in the street.
For the record, the BBC's top on-screen talent all look fantastic, even with no make-up and bed hair. Not that I craned my neck to look, obviously.
But it was a moment that summed up how it feels to be working at the Commonwealth Games. You get to rub shoulders with people whose sporting achievements you really admire.
But, as a reporter at Glasgow 2014, I have spent most of the fortnight trying to initiate encounters with our highest sporting achievers.
My highlight was interviewing Wales' golden girls Georgia Davies and Jazz Carlin late last Tuesday, their hair still wet after medal-winning swims at Tolcross.
I had filmed Carlin in 2012 as she struggled, unsuccessfully, to overcome glandular fever in time for the Olympics.
Back then, even as her dream of competing in London was slipping away, she had been generous with her time and honest when we talked about this painful chapter in her life. She was one athlete I was desperate to see do well in Glasgow.
I watched her 800 metres freestyle race with Welsh colleagues at our office at Pacific Quay on the Clyde. Cheers echoed round the building as Jazz touched the wall first. She wasn't the only one crying when the gold medal was hung round her neck. Sometimes reporters can't help but get emotionally involved.
Some stories took us all by surprise. I genuinely thought my producer was winding me up when he called to say a second Welsh athlete had failed a drugs test on the eve of the Games. Maybe I should have anticipated an Australian weightlifter head butting one of Team Wales. This is, after all, the home of the "Glasgow Kiss".
Whisky
The locals were generous and welcoming hosts. The slogan "People Make Glasgow" plastered all over the city is probably right. For the first time in my career, everyone was keen to stop and talk, although it took a few days to tune in to the local accent.
I did manage to burst out of the Commonwealth Games bubble for a couple of hours on my only day off last weekend. I took a train to Loch Lomond - passing through places like Partick and Dumbarton that I knew from the classified football results.
At Balloch, on the south shore, I hired a mountain bike and for the first time that week, felt rain on my face. It has mainly been shorts weather on the Costa del Trossachs.
The athletes and coaches who delivered Wales' record medal haul, after the most turbulent of build-ups, deserve real credit.
Before I leave Glasgow, I plan to buy a bottle of finest single malt whisky and toast their success when I get home.