Recall Parliament over Gaza-Israel says Hywel Williams MP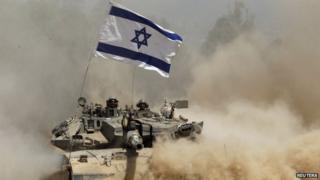 Parliament should be recalled to discuss the ongoing conflict between Gaza and Israel, a Plaid Cymru MP says.
Hywel Williams, who represents Arfon, called for the summer recess to be interrupted, claiming it would be a "valuable" opportunity for both sides of the argument to be debated.
More than 1,800 people have been killed in the fighting.
Israel launched Operation Protective Edge on 8 July, with air strikes targeting militants and weaponry.
'Foremost arena'
Days of intensive rocket fire and air strikes between the two sides continued, and on 18 July, Israel launched a ground offensive.
The vast majority of civilian casualties have been in Gaza, with Gaza's health ministry estimating the latest death toll at 1,740. It also says 9,080 people are reported to have been injured.
The UN estimates that more than 60% of the Palestinian dead are civilians.
A total of 66 Israelis have died, all but two of them soldiers. A Thai worker in Israel also died.
MPs broke for the Commons summer recess on 22 July and are due to return on 1 September.
Asked what would be the point in British MPs being recalled to debate the crisis, Hywel Williams told BBC Radio Wales' Sunday Supplement: "The only people who are not discussing it are MPs in parliament, which is supposed to be the foremost arena for debates on all kinds of policies, including foreign policy.
'Small step'
"So, it seems to me very strange indeed that everybody's talking about it apart from the professional talkers."
Mr Williams said a debate would allow MPs to "ask questions, make our own points on both sides of the argument".
It would be "very valuable indeed as a very small step towards explaining the debate rather than shooting at each other", he said.
Meanwhile, David Davies, Conservative MP for Monmouth, said there "could have been a lot done to prevent civilian deaths in Gaza".
However, Mr Davies, a member of the Conservative's Friends of Israel group, added: "I don't think any country will accept the right of a neighbouring state or territory to fire rockets at them.
"It's just not going to happen and Israel is a democracy and the people will not tolerate politicians [who] allow that to happen".