Lordship of the Manor of Wales sale fails despite £15k bid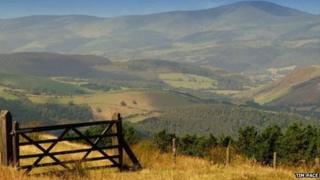 The manorial title, the Lordship of the Manor of Wales, failed to reach its reserve price at auction in Cardiff.
The historic title, which was mentioned in the Domesday Book, did not sell despite a final offer of £15,000.
Paul Fosh Auctions said they were optimistic they could still reach a private sale of the title.
The 11th Century title was put up for sale by a north Wales man who was bequeathed it by Lady Marcia Amelia Lane-Fox who died in 2013.
There were two Manors of Wales until they were united in the 18th Century through a marriage between the rival Darcy and Osborne families.