World War One: Facebook helps relative find out more about policeman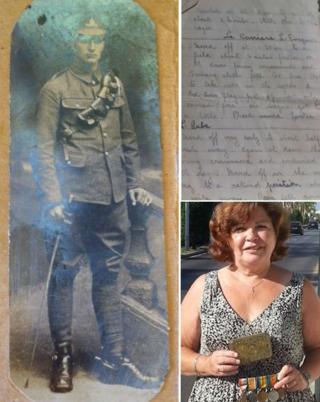 Facebook has helped solve the mystery of the fate of a Welsh police officer who served in World War One.
Sue Parfitt was using the social media site in her research to find out more about her great uncle Sidney Pucknell who was killed in the war aged 23.
She came across a picture of a plaque dedicated to fallen police officers.
It showed Mr Pucknell was one of 14 Newport and Monmouthshire officers who died after swapping their police uniform for Army greens.
Ms Parfitt, who lives in Spain, had begun a search for information about her great uncle when she and her sister Linda Lyons came across his medals, a few pages of his diary and a brass box containing some of his possessions.
The box included scalpels and other medical items which he would have used in his role as a medical officer during the war.
And the pages of his diary, revealed a snapshot of some of his wartime experiences.
It reads: "Moved off at 1.30am to a field about six miles further on. At dawn firing commenced. German shells fell too free. Had to take cover in the woods Red Cross flag put up but only caused fire. One wagon got hit a little."
Ms Lyons said: "It tells of his movements and is quite poignant in parts, with details of casualties and shelling.
"There are about 10 pages and it ends suddenly. He writes 'nothing much happens today' but this is in the middle of a war! It's really interesting."
The sisters took their quest for more information about him online and came across the Facebook page of the Gwent Police force.
"I noticed the plaque - I didn't even know it existed," explained Ms Parfitt.
From there, the force's history group was able to fill in the gaps of Mr Pucknell's life they had been searching for.
They discovered Mr Pucknell had been a Monmouthshire constable who became an acting bombardier with Royal Field Artillery. He was killed in October 1917 and buried in Belgium.
"He was a man who dedicated his life to public service both in the police force and Army and paid the ultimate price," said Ms Parfitt.
"I can't imagine being 23 years old and being told to run towards the enemy when they are firing at you."
Since learning about her great uncle's contribution to the war effort, Ms Parfitt has travelled from her home in Spain to Gwent Police's HQ in Cwmbran, Torfaen to lay poppy crosses in memory of the 14 police officers who had died in World War one.
Another officer who perished in the war was Frederick George Ransome, 1890-1918 - 'Unselfish to the last'
The police constable from Pill enlisted in the 1st Battalion Grenadier Guards and became the orderly for Lt Col John Standish Surtees Prendergast Vereker, The 6th Viscount Gort VC.
He died of wounds while saving the life of the injured officer. In a letter to the Chief Constable, Viscount Gort wrote how his life had been saved in France in September 1918:
"I was wounded in the arm while directing some tanks, and Ransome by his initiative in adjusting a tourniquet to stop my arterial bleeding, and devotion in accompanying me to the regimental first aid post, undoubtedly did much to save my life.
"Later he again accompanied me as my orderly during the attack and when the attack was over he insisted on accompanying me back across the open ground to the dressing station. The enemy was still in action with his artillery within 1,500 yards of the route we had to take and recognising the risks to be incurred in the journey, I told him to return to the Battalion.
"This, however he refused to do and shortly after, while he was helping me along, the Germans fired a shell at us at a range of under 1,500 yards. It blew poor Ransome's arm off and badly wounded him in the leg.
"Ransome [he] was suffering a great deal of pain but unselfish to the last he told me I had better go on for fear of being hit by this gun which had already fired at both of us with some effect. This was naturally unthinkable. Almost immediately afterwards he lost consciousness and died before we reached the advanced dressing station of the Field Ambulance."
Frederick Ransome is buried at Beaumetz Cross Roads Cemetery at Beaumetz-Les-Cambrai, France.