Welsh ambulance response time target missed in June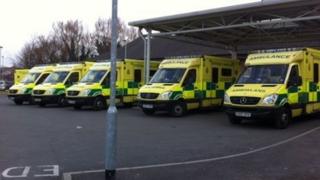 Welsh ambulances have again missed their target of reaching 65% of life-threatening incidents in eight minutes.
The figure for June was 53%, down from 54.1% in May and 62.6% in June 2013.
The Welsh government said the results were "disappointing" as the health minister wanted month-on-month improvements.
Plaid Cymru said there was "no excuse for this continuing failure" to hit the target while the Welsh Liberal Democrats said it was a "huge concern".
There were 35,570 emergency calls, of which 14,167 were Category A and of these 53% of responses arrived within eight minutes.
Ambulance crews arrived at the scene of Category A calls within 30 minutes in 96.7% of cases.
Welsh Conservatives shadow health minister Darren Millar: "An immediate medical response to a heart attack, stroke or serious accident can make the difference between life and death."
The Welsh government spokeswoman added: "Information we've received from the Welsh Ambulance Service for July to date shows there has been a marked improvement in the eight-minute response time performance and an overall reduction in the number of long handover delays at hospitals."
'Ambitious plans'
The Welsh Ambulance Service's director of service delivery, Mike Collins, said the trust board had backed ambitious improvement plans including recruiting more frontline staff, efforts to cut staff sickness absences and a drive to reduce unnecessary calls.
He said: "We recognise that on occasion we fall short of the eight-minute target but are working, and will continue to work, as hard as we can to get to patients as quickly as possible.
"We have been working closely with our local health board colleagues to reduce the delays in handing patients over to the care of the hospitals throughout Wales and we have seen real advancement.
"However, we believe there is still room for significant further improvement."